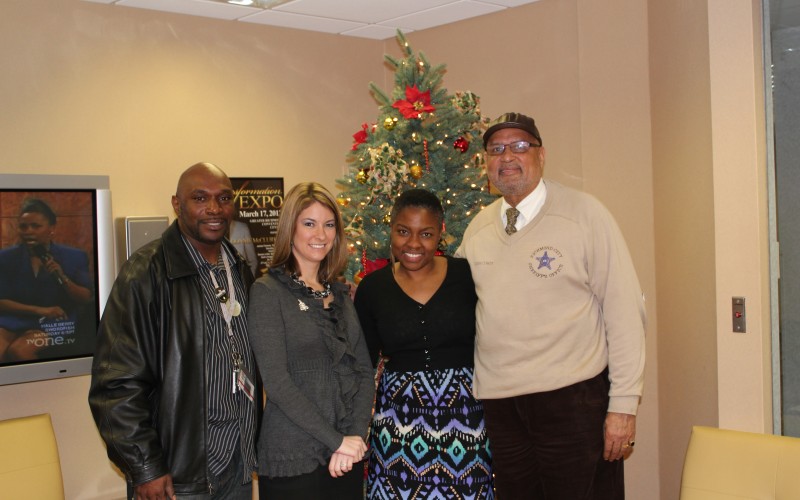 Makin' it Through the Holidays
---
If you did not hear the radio show with Sheriff Woody, one of the KLM men, and me on one of the three Radio One stations in Richmond, Virginia this weekend (Praise FM, Kiss FM, or iPower 92), make sure to listen via the you tube links below!
We all know the holidays are a very critical time for addicts, as relapse is very common during this time. Without loving friends and family, depression often sets in. The stress of maybe not having money to purchase gifts, can lead to anxiety. These such issues (in addition to others) are strong contributors of relapse. It therefore, it is very important for programs such as Kingdom Life Ministries, other rehabilitation programs, and for our community to rally around those effected by substance abuse. Not only do we not want the addict to relapse, but we all know about the high correlation associated with crime and drugs and/or alcohol…we certainly want to try to avoid these circumstances as best we can…treatment is the best measure to avoid them.
During this radio show, Sheriff Woody discussed that his goal when people get out of jail, is for them to be better citizens, not better criminals. It's the responsibility of the jail to build hope for a better life when they are release! Offering rehabilitation type programs in jail, such as KLM in the Richmond City Jail, is being proactive and not reactive. We cannot arrest away the problem, but must come up with solutions.  One extremely productive solution is to provide programs and hope while they are incarcerated, then provide a seamless transition into society, which should include housing immediately upon release.
Listen to the radio show for much more, by clicking on the links below. The program has been split into three 10 minute segments.
Part One – Introduction with Clovia Lawrence and Dr. Sarah Scarbrough
Part 2 – Discussion with Sheriff Woody and Hilton
---