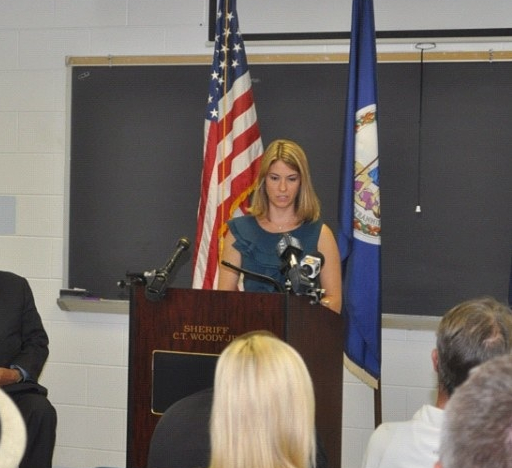 Press Conference with Dr. Bosher and Sheriff Woody
---
My dissertation committee chair, Dr. Bill Bosher, Sheriff C.T. Woody and I hosted a press conference announcing the results of my dissertation. With a room full of viewers, including deputies, KLM alumni, KLM board members, dissertation committee professors, lobbyists, Richmond Police officers, and others, Sheriff Woody began the press conference by welcoming everyone and introduced the study. Dr. Bosher then took the stage and shared his experience with this study as the chair and endorsed the great results by stating "this is one of the best programs in Virginia."
It was then my turn! I spoke for about 10 minutes, and started with this:
"Organizations like Kingdom Life Ministries are in existence because of the wide reaching ripples of substance abuse that seeps into every pocket of our community. Aside from problems facing the addict, ramifications created by substance abuse stretch to family members, law enforcement officers, correction officers, children exposed to substance abuse, and innocent citizens victimized by criminal actions committed by users. The seemingly hopeless correlation between substance abuse and recidivism is what drew me to study KLM and their recovery program that follows a peer-based model. My research revealed that KLM is saving the Commonwealth of Virginia close to $8 million, as well as significantly lowering recidivism rates. The results of my evaluation clearly illustrate that the fight against substance abuse and recidivism is not hopeless. It is my hope that future policy will help implement and support more effective programming, as well as save the Commonwealth tremendous amounts of money."
After discussing the results of the study, I emphasized the need for lawmakers and policymakers to act on research and evidence based measures and not only slogans as "getting tough on crime," which sounds good for re-election, but certainly is not smart way to go about this and definitely not the most effective way. While I admire the efforts of the many people in our community who are saving lives everyday, there is always room for improvement and I would love to see programs evolve and be enhanced to run in a manner that has been proven to be effective through research.
What a great day it was sharing these results and having so many media outlets present to bring the message all over Virginia. Outlets reporting on this story included the AP, NBC12, CBS6, ABC, Richmond Time Dispatch, Washington Post, the Richmond Voice, and more.
---