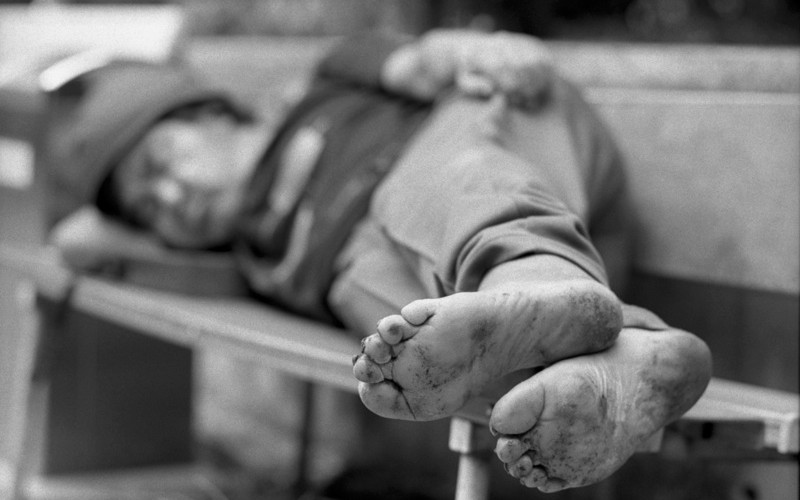 Homelessness
---
According to the November 3, 2013 article in the Richmond Times Dispatch, Solutions to homeless require regional efforts, the number of homeless individuals in Richmond has decreased. Between 700 and 1000 people are homeless in Richmond on any given night. This number encompasses those who are literally on the street (72 people) and those who do not have permanent housing, such as those who are staying in shelters.
But are there other homeless people that maybe are not accounted for in these numbers? A large amount of those incarcerated in jail would be homeless if they were not in jail and will be homeless when released. Some will be living on the street, while others might stay on someone's couch or bounce from place to place. Others will likely live in a transition or recovery house. Caritas, a non-profit organization that works to curb the homeless population, houses hundreds of homeless people in their shelter every night. There are also many other organizations that provide housing and treatment for individuals who otherwise would likely be homeless. Such organizations in Richmond include Kingdom Life Ministry (KLM), the McShin Foundation, Boaz and Ruth, Oxford Houses, Rubicon, and many others. Each night, these organizations provide safe and stable housing for their clients, as well as providing an array of services that strives to break the cycle of addiction that they battle.
According to the "Snapshot of ex-offenders experiencing homelessness in the Richmond region," published by Homeward, 76.7% of those identified as homeless had previously been incarcerated. Their thorough research, which included going through the streets of Richmond in the middle of the night to find these individuals, reveal that in order to further curb the homeless population, we must focus on those who are incarcerated and ensure they have a housing plan after released from jail or prison.  Other statistics found in this report include:
A majority of ex-offenders have served time in jail (64.6%). 3.0% indicated that they served time in prison, and 32.5% reported that they had served time in both jail and prison. 59.6% reported having felony convictions. 28.6% reported being homeless before incarceration, and 31.0% indicated that they were homeless upon release.
26.2% experienced domestic violence in their lifetime. Of those experiencing domestic violence, 36.7% had experienced it in the past year.
58.0% report having a problem with alcohol sometime in their lifetime. Of those reporting a problem with alcohol, 77.5% are currently in recovery.
59.6% report having a problem with drugs sometime in their lifetime. Of those reporting a problem, 77.9% are currently in recovery.
38.1% report having a mental health problem sometime in their lifetime. Of these, 62.1% are currently being treated. 57.1% are taking medication for mental health problems, and 88.4% are receiving counseling.
53.3% report having a long-term disability. Of those reporting a long-term disability, 80.4% indicated that their disability was drug or alcohol abuse; 50.6% indicated that their disability was a mental illness; and 42.2% indicated that their disability was a physical disability. (Note that respondents could select all, some, or none of these options.)
17.1% are employed. Of those who are employed, 46.3% work full-time, 35.4% work part-time, and 18.3% do day labor or temp work.
In the past three years, most homeless ex-offenders have been homeless once (58.1%) or twice (19.6%); 22.2% have been homeless three or more times during this time period.
A little less than half (49.4%) have been homeless for five months or less.
As shown, housing is one of the most critical components to ensuring a successful re-entry into society from incarceration. Without housing, most often, the individual will engage in the lifestyle they were a part of prior to their stay in jail or prison. Why? Well, most often the offender has burned many bridges and no one is willing to welcome them into their home. Typically the only people who will welcome them are the same people on the same street corner doing the same thing they were doing prior to arrest. So, they are released from jail onto the street with nothing (sometimes they get $25 and a bus ticket, but most often they are released with nothing) and we as society expect a different outcome. While expecting a different outcome, they have no place to live, and if they have a place it is often in the same neighborhood that got them in trouble before, no skills or knowledge of how to get a job, an educational level so low that most jobs would not hire them, no driver's license, and several thousands of dollars in debt.
Expecting a different outcome while all factors remain the same is just not realistic.
---