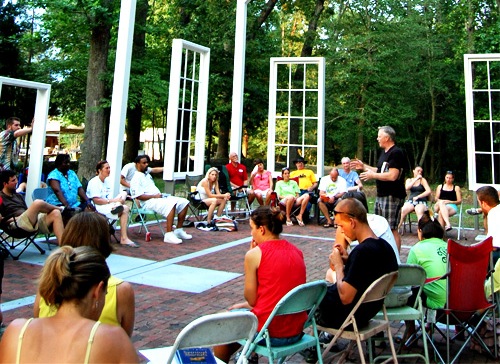 Using the Peer-Based Model
---
"I told my P.O., you don't know me — you know my name, but that's all. And you can't know me by opening up that folder — it's not me — I have long out grown that person that you have right in that folder — that person is frozen in time — all you see in that folder is 'big guns' — that's not me anymore. When I came to this program (Kingdom Life Ministries) and witnessed how the director changed his whole life around, it really inspired me because I met him on the street before he actually changed his life. So for me too come in this program and to see what he has done, it really motivates me."
The success achieved by many programs across the nation and in Virginia suggests that programs following a peer-based model are proven to be effective in providing treatment to those who battle substance abuse. In addition, "helpers derive significant therapeutic benefit from the process of assisting others: to get it, you have to give it away" (Riessman, 1990). Those who serve in programs that follow the peer-based model as staff or recovery coaches gain their expertise through "experiential knowledge" and "experiential expertise," rather than through academics and textbooks (Borkman, 1976).
According to Bill White (2007), the recovery coach/personnel in a peer-based model has many roles to fulfill, including: outreach, motivator and cheerleader, ally and confidant, truth-teller, role model and mentor, planner, problem solver, resource broker, monitor, tour guide, advocate, educator, community organizer, lifestyle consultant/guide, and friend. While this list is extensive, be warned that this role is not a replacement of a sponsor, therapist/counselor, nurse/physician, or a priest/clergy.
Pennsylvania and Connecticut have implemented two different peer-based recovery support service models to improve long-term recovery. These have proven effective in reducing recidivism rates, all at a lower cost. Peer-based recovery programs are unique, in that services are delivered by ex-offenders and those who are leading a successful recovery. Research reveals that implementing these programs leads to successful releases and lower recidivism rates. Such programs are seen to balance barriers to reentry back to society, which typically tend to contribute to continued criminal behavior.
While not yet a widely used model throughout Virginia, Richmond fortunately has several proven treatment programs that utilize the peer-based model. Reflecting on his recovery and this model, Nat Shanks, chairman of the Kingdom Life Ministry, Inc. (KLM) Board, commented, "I think that the greatest aspect of my recovery, was my relationship with the Lord.  He gave me a direction, a plan, and I had to try to keep true to what his vision was for me.  That has been the formula that has helped me in my 26 year journey to recovery.  I couldn't put more clearer, that, "Obedience is better than sacrifice,"  and prayer without faith, is dead.  My 26 year success has hinged on the fact that not only do I have myself, and my family that I am responsible for, but, also the countless Men that are watching, and that God has placed in our hands.  My/our success at KLM, is the collective hope, and effort, as well as, the dedication that we have for the Men.  We try to stay true to the phrase that 'Iron Sharpens Iron.'  It is no coincidence that God has put this KLM team, together, of diverse backgrounds, ethnicities, to help create the exact formula for recovery success stories.  That is the essence of the Peer based model!"
According to Thomas Bannard who works at Caritas and the Healing Place, "despite their imperfections, peer based models are cost-effective, provide social support for recovery, and most importantly have proven themselves to work over a long period of time.  At The Healing Place, we would not be able to provide the quality of services that we provide to over 200 people a night without using a peer based model and peer mentors."
In a recent article published by the Richmond Times Dispatch about a Richmond based substance abuse facility (McShin Foundation), their new CEO (Honesty Liller) commented, "All of our staff is in recovery, that's what makes us who we are. Been there, done that. We know how to guide people in the right direction because we've been there, done that."
The implementation and/or incorporation of peer-based programs, does not only help to reduce the costs associated with rehabilitation and recidivism, but truly contributes to the success for those in recovery. In a discussion I had with a man in recovery relating to the many roles of a recovery coach or someone in the peer role, it was said:
"I can identify with the leaders. They have been in prison; they have been in the streets like me. Identification is it for me — someone can't tell me what it was like to be dope sick. I need to feel like we are on the same page. When I'm cursing and have a lot of resentment and a counselor tells me to breathe and count to 10, that doesn't work. Someone who has been there can tell me how to cope with my feelings."
---